You may remember that in my recent blog on
evolution
, I invited corrections and dissenting opinions. When I received none within the first few days, I went on with my life. Well folks,
somebody
answered. He or she posted as my superego. While I'm glad for Freud's contribution, I'm really not so Freudian myself. But if I were, I would say that my own superego is much harder on me than this person will ever be.
My point is that I didn't write this, just to clear up any possible confusion. You can find the full text of SuperEgo's argument in the comments for "
Does evolution really happen? (Part 2)
." I'll be quoting the whole thing anyway in
small blue text
. To any that might wonder, I don't intend in the future to answer every criticism or flame offered. But if I think it's interesting, or if it poses an interesting question, why n

ot?





1) You state that Microevolution is a proven scientific fact. But then you state that evolution is unproven . . . which is it?

Building on this, over thousands, millions, or billions of years of microevolution, or minor changes in a species, the changes become overwhelming and develop a new species, hence macroevolution.

Even today we are seeing evolution. Just watch the evening news. The H1N1, or swine flu virus, evolved from a form the human flu being in pig DNA. It has been evolving since the 1930's and 40's.

Link: http://www.bloomberg.com/apps/news?pid=20601124&sid=aLnivLSRTSyw
Ok
. I was saying "evolution" when I really meant "macroevolution." Let's call that creative license for the sake of convention. Now to clarify, the example SuperEgo lists is a classic case of microevolution, or "species variation." Macroevolution would be if the swine flu virus had evolved into a fish.
2) Car keys. We all know that car keys and non-organic matter cannot evolve into life. Please do not be-little your SuperEgo.
Carbon is the foundation for all things life. All living matter has to be made out of Carbon. That is all I will say about your "Transformers" argument.
Does anyone remember an episode of the original Star Trek series that featured an alien species called the "Horta?" If not, feel free to revel in your non-nerdiness.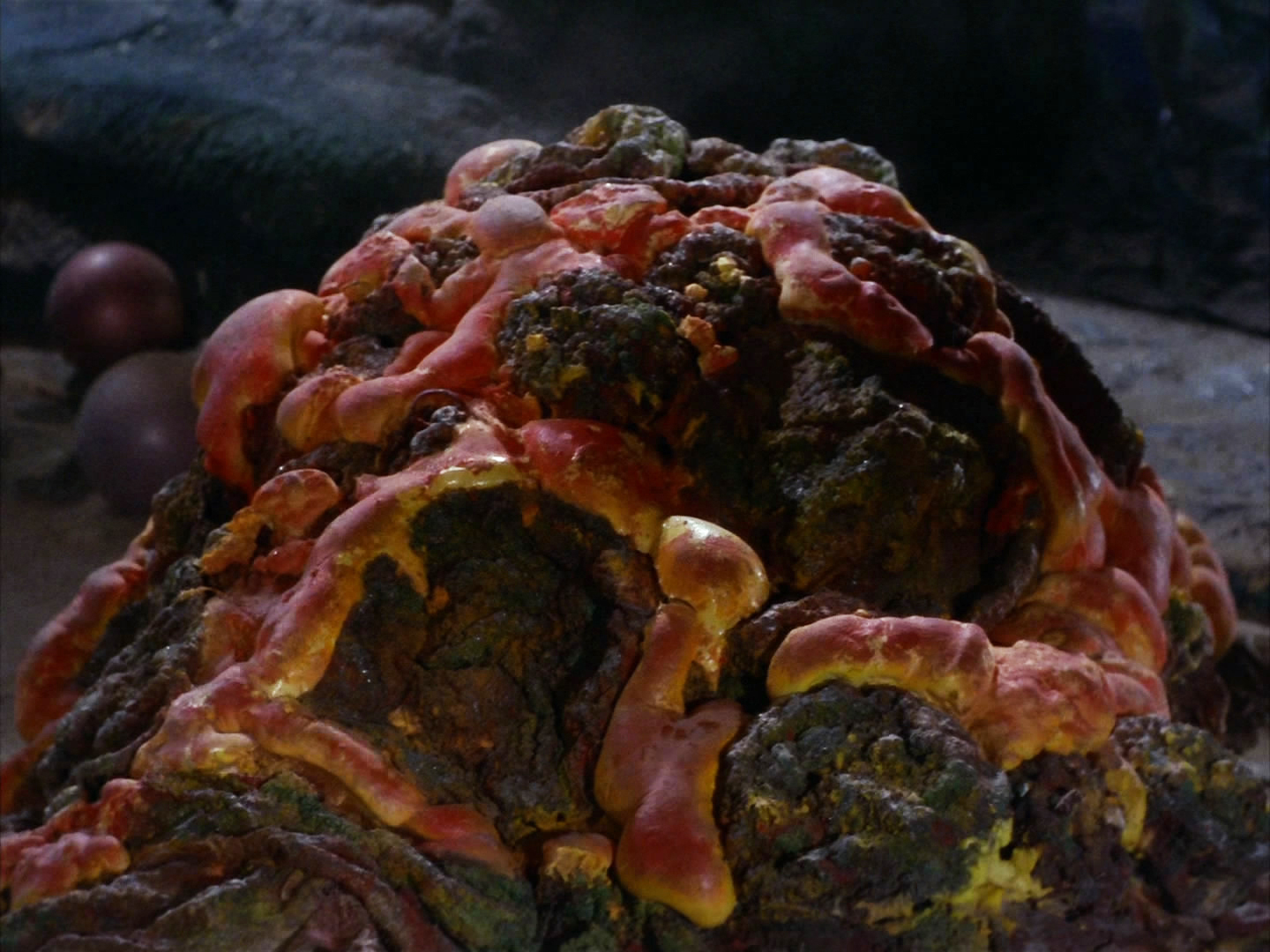 The Horta were a silicon-based life form. (I know. I know. They look like hamburger meat. Get over it.) This was a point of interest because all life as we know it is carbon-based, as SuperEgo points out. It's also one of many reasons Star Trek is super-cool...in a nerdy sort of way.
My example of keys coming to life used the example of an object that is not carbon-based. Fair enough. But I also have two rods made of carbon fiber in the guitar neck I'm working on. Should I be worried?
There are reasons why carbon is so conducive to the formation of living organisms. One might look at that and see evidence for intelligent design, or one might not. Interestingly enough, some scientists have hypothesized that silicon might also be a plausible candidate for the formation of life. From an evolutionary standpoint, perhaps the
Transformers
are no so far-fetched.
3) Hitler was a nut. Do not place Hitler near Darwin. Hitler used the Jews to create a common enemy for the people. In a way he was right; he was annihilated by the allies, a superior group of people.
Darwin was close to becoming a priest and the whole time believed he was discovering how God created the universe and life; the same is true of Newton and Galileo, all of whom were impeded by the church.
SuperEgo makes a good point here. I realized it before he pointed it out, but didn't have the conviction to remove the statement I made. I will leave it so that my retraction makes sense as well.
The link between Darwin and Hitler is a real hot button for many evolutionists, and with good reason. The holocaust was a horror movie come to life. And it's not fair to ask evolutionists to own that. I get frustrated when people fixate on the Inquisition or the Crusades. How much worse is it to blame evolutionists for the holocaust?
So I offer my apologies on that point, although for the sake of clarification it should be noted that Darwin eventually became a self-confessed agnostic.
4) Every animal group has a small percentage that exhibit homosexual behavior. Even though they do not breed, the majority of the species, which is not homosexual, does breed and the species lives on. There is no "Gay Gene;" it is the brain's chemical makeup.
I thought I was clear on this point, but maybe I wasn't, so let me restate myself. I was pointing out that belief in a biological root for homosexuality is inconsistent with a belief in evolution. (Here, I do actually mean evolution in the general sense, and not macroevolution.) If, as SuperEgo posits, homosexuality has a chemical cause, would that not also logically be bred out through natural selection?
Since I have written enough I will not go on, but I do have more. I will leave you with this last thought.
Without citing the Bible, i.e. I am the Alpha and Omega yadda yadda yadda, how did God come to exist? Your answer "He has always been." I know the response, but how is this less of a stretch than life evolving?
This may be a question better left for another day. It's a big one, and my answer concerns the limitations of the human mind. I like the question, but c'mon... Give me more credit. Sure, I could throw some Bible verses at you, but all that would demonstrate is that the doctrine is intrinsic to the religions that support the authority of the Bible.
Thanks again to SuperEgo for the response. And thanks for reading!
-Solid