Ok, let's be real here.

Mothers Day is just a bigger deal than Fathers Day.

No, they're not just "different."

Do you remember all the Mothers Day marketing last month?

And then Fathers Day comes around, and it's like the stores all of a sudden go, "Ah, shoot!

It's Fathers Day!

Let's…um…put ties on sale."
We got my mom this beautiful flower arrangement this year. Dad's getting a card. (Did you hear that, Dad? Enjoy your friggin' card. You'll probably get it, like…I don't know. Wednesday? You can blame me for that—not Wifey.) So what's the deal? My dad is great! We love our dads, right? I have a theory.
When I was a kid, my dad used to drive an old Ford Pinto. It was originally my mom's car, but then she got something else and it was passed on to dad. That car was a real piece. And I don't mean a museum piece.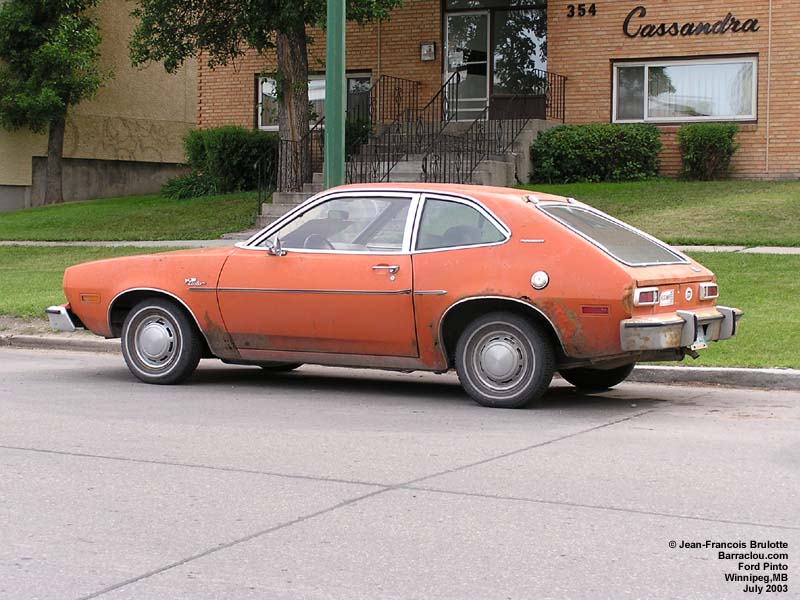 Every morning we'd hear, "RrrRRRrrrrRRRRrrrrRRrrrRRRRRRRRRrrrrrrr!" as he tried to get it started up. Finally it just wouldn't start anymore. I think he sold it for a couple hundred dollars.
Then he got a canary yellow Toyota Corolla hatchback. He bought it from a guy that worked for him, and it already had about 100,000 miles on it. He drove it into the ground. That thing finally died after around 250,000 miles.
Mom had much nicer cars. That's just how things worked in our family. I remember vowing that when I was grown up, I'd have nice cars. They'd at least be as nice as my wife's.
Nope. I drive a Nissan Sentra with a big dent in the fender. It's not quite the equivalent of that old Pinto, but my wife's car is easily worth twice what mine is.
So here's my theory. Mothers Day is a bigger deal because we like it that way. By we, I mean men. Yeah, there's also that nine months in the womb thing, and some other stuff, but I think the biggest reason is that we (men) want Mothers Day to be a bigger deal.
"Husbands, love your wives as Christ loved the church and gave himself for her…"

-Ephesians 5:25
My dad laid down so much for us. I don't know a lot of guys that have done what he's done. A lot of people's dads have lives marked by success. And they learned that from their dads.
Know what I learned from my dad? Sacrifice. My mom and dad were separated for a year between 1989 and 1990. It's not that they wanted to be, or that they were fighting or angry or anything. Dad just couldn't find work in the town where we lived. So he lived and worked in Dallas and drove home to see us on the weekends. We probably should have just gone with him right away, and finally did, but mom and dad didn't want to uproot us.
What did he do in the evenings? He cooked. He always said he enjoyed it, but now that we're all out of the house, he doesn't really cook anymore. Dad's cooking was legendary among my friends.
Dad got sober almost a decade ago. He never touches alcohol anymore, unless he's grabbing a beer out of the fridge for Mom. While I was growing up, Dad drank…a lot. I don't know for sure why. I mean, he grew up with the understanding that you're supposed to have a drink after work, but I think the biggest reason was that it was just his way of dealing with everything – the death of his father in 1981, the loss of the family store, financial ruin, foreclosure. I could go on, but I won't. The thing is…we knew about that stuff, but mostly just cognitively. Mom and Dad protected us from it all. They never dumped their problems on us. They made leftover beans for supper fun (sort of).
A couple of days ago I wrote about how we wait on God to give us worldly blessings when he gives us so much more than that. He gives us what we need to become who he's created us to be.
With my dad, it was a lot like that too. Dad wanted to give us things that cost money. I'm sure he wanted life to be easier, and I'm sure he still does. My dad gave me character, values, and the ability to prioritize the things that are most important. He taught me sacrifice. A lot of people never learn that.

Thanks for laying down your life for us, Dad. You gave us what we needed, instead of what we all wanted. What you taught us is more valuable than material things.
I don't say, "I hope I'll be as good a dad as you someday." I know I'll be a good dad. I was watching. I learned.
Happy Father's Day, Dad. Enjoy your friggin' card.
-Solid